Moderator: gatso76
Scramble Master

Posts: 20026
Joined: 25 Jan 2006, 08:02
Location: Netherlands
http://www.luchtvaartnieuws.nl/Objects/ ... ve_600.jpg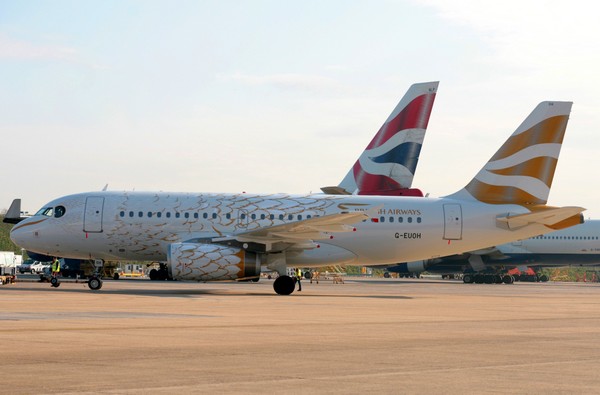 More @
http://www.luchtvaartnieuws.nl/nl-NL/Ar ... uifkleuren
Last edited by
Stratofreighter
on 03 Apr 2012, 17:25, edited 1 time in total.
Scramble Junior

Posts: 186
Joined: 15 Jan 2012, 15:40
Type of spotter: mil
Subscriber Scramble Magazine: tomcat604
Location: Great White North
Wow that is lame - looks like a chicken that didn't have all the feathers plucked before going in the broiler!
Time-lapse van de making off
[youtube]
http://www.youtube.com/watch?v=YDDXXGoF7Dc
[/youtube]
Scramble Die-Hard

Posts: 525
Joined: 31 Jul 2010, 07:47
Type of spotter: Photographer
Subscriber Scramble Magazine: Snipes
Location: IJsselstein(UT)
Nice time-laps video! And quite some work; (re-)painting an aircraft!
Greetz Wesly
Scramble Addict

Posts: 2030
Joined: 28 May 2003, 15:35
Type of spotter: F5
Location: Oxford (UK) & Utrecht (NL)
Wow what an incredible ugly paintjob.

Tomcat604, could not agree with you more.
I always say a boy can learn more at an airport than at any school.
- Homer J Simpson -
Scramble Die-Hard

Posts: 927
Joined: 12 Feb 2004, 10:16
Type of spotter: S5
Subscriber Scramble Magazine: yes
Location: Uithoorn
Looks like they're promoting birdstrikes rather than the Olympics
Kees

Scramble Master

Posts: 3324
Joined: 30 Apr 2005, 21:32
Type of spotter: F2
Subscriber Scramble Magazine: Joost de Wit
Location: Hoofddorp
Contact:
According to Luchtvaartnieuws.nl there will be nine BA aircraft painted like this.
Joost de Wit